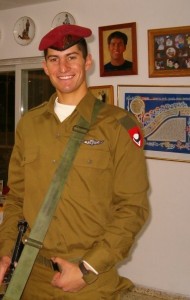 Yosef Yitchak Goodman was born in Manhattan, New York on June 1st, 1985. He was Mordechai and Chana Goodman's second son and Shimon's younger brother, who was born a year and four months before him. Yosef was an older brother to Yehuda, Naftali, Binyamin, Asher, Miri, Racheli and Dani.
When Yosef was 9 months old, in March 1986, the Goodman family made Aliya to Israel. The family arrived at the absorption center in Mevaseret and Yosef joined the gan in the area. In December 1986, the family moved to Efrat and were one of the first families that created the core of Efrat. Yosef began school in "Ase Chayil" school in Efrat, grades 1-6. His favorite class was gym. Yosef excelled exceptionally and was part of the running team that took part in a few races in Jerusalem. In addition, Yosef was a swimmer in the swim team and was in the local soccer team grades 3-8.
Yosef continues on to "Or Torah Stone" middle school in Efrat and did his high school learning in "Merkaz Lemida Dati" (meled) in Jerusalem.
In addition to his many sport and many friends, Yosef helped in the family pizzeria business. At the end of every school day, Yosef worked in the family pizzeria in Efrat and was always looking for a way to help and alleviate stress of his working parents. He made thousands of pizzas, worked under pressure and was able to respond to the customers' demands. He was perceptive and, always learning and knew the craft of making pizza and was able to help his family a lot. He loved to work and offered ideas on how to improve the way things were done.
Yosef loved American football and would go with his father to all his father's games in Jerusalem. As a high school student, Yosef wanted to open a junior's ameriican football league. Steve Leibwitz, head of the league in Jerusalem agreed and Yosef collected a group of friends who helped him form the league. Today, the league that Yosef established is named after him "The Yosef Goodman High School Football League". Yosef also played in his fathers' team named "Pizeria Efrat", where he excelled. In 2004, Yosef was part of Israel's league and represented Israel in an International competition in the Dominican Republic.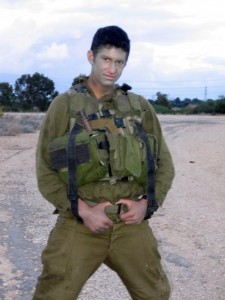 Yosef was a devoted and loving son and a loving brother who looked out for his siblings. His family was an important part of who he was and he was very close to his grandparents. When his grandfather got sick with Parkinson, Yosef would escort and assist his grandfather to make his life easier.
A week after he returned from the international competition in March 2004, he enlisted in the army. After an exhausting trail period prior the selection for elite army units, Yosef was accepted to the elite unit- Maglan. Yosef loved the army, his friends in the unit and his commanders. Yosef bloomed in the army, was happy there and believed that he was doing important work. He was highly motivated and strove to improve himself. He trained beyond what was necessary and he was in extraordinary shape. Striving to reach his goals was what characterized Yosef as a soldier in this highly elite unit.
In honor of the first jump, the family travelled to Palmachim to watch. His grandmother was in a wheelchair and since Yosefs parents didn't know the areas conditions, they chose not to bring her to see Yosef jump. Yosef was upset as he was looking forward to her coming. He demanded that his father bring her the next day. She came for the next jump and was so emotional, and Yosef was happy to see her.
He had many friends and he was a loyal and concerned friend. His friends from the unit called him "Goodman". Although it's difficult to stand out in an elite unit, Yosef stuck out with his ability to help everyone, to assist during the difficult hikes and encourage those around him. His ability to lead and set by example stood out in the way of "see as I do, and do the same". He had such joy for life and so much energy. Yosef believed in Hashem and as a Jew, this belief was part of his being. He was careful not to speak badly of anyone. He gave charity and had piety. Yosef had a big heart, a special soul and he always wanted to help others and give and give and give.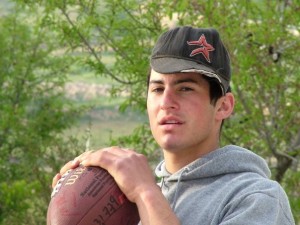 Thursday, 4th of Shevat was as special Thursday in a Jewish household. Preparations for Shabbat. All schools in Efrat and Gush Azion taught about the Lamed Hei's courage, as the day they had fallen was on the 5h of Shevat. The sun had set and on the radio the announcer had spoken of a parachuting accident. Our lives went on as usual until the army representatives arrived. There must be some mistake. We didn't understand what the police was doing at our house along with army representatives. The tragedy was quickly discovered. During a parachuting jump, a special jump that only a few soldiers were selected to jump during this exercise, Yosef's' parachute got tangled in his commanders leg. Yosef understood that both of them will crash to the ground this way so Yosef decided to disconnect his parachute in order to save his commanders life. The commander's parachute was left intact and he landed safely on the ground, while Yosef's spare parachute didn't open fast enough due to their proximity to the ground .
That was Yosef's last jump. Jump number 38.
The weather was pleasant. The family gathered, families from the yeshuv come to our home. There was a constant flow of people that knew Yosef.
The funeral was the next day on Friday. Before noon, it began to rain heavily. It was if the sky was expressing their condolences. From the gathering at Efrat Synagogue until the end of the service in Herzel Military Cemetery in Jerusalem, the rain didn't stop. From the large number of people who came to show Yosef their respects, we understood that there was something about Yosef that drew them to him until the very last moments.
"And like in every such group, there needs to be one who is the best fighter. Yosef was a fighter in every sense of the word- motivated, professional, in excellent physical shape, unusually strong. He loved his team and the army and gave his all during every training and every operation because that's who Yosef was, a true man of all or nothing. Nothing was half way; he told you the truth straight to your face. A sensitive man full of love to those who surrounded him and love for what he did." (Yosef's Team Officer Eulogy)